Bellator 299 Results & Highlights: Eblen Retains 185-Pound Title, Finishes Edwards With Strikes In The Third
Main Event Highlights And Full Card Results
Live from the 3Arena tonight in Dublin, Ireland, Johnny Eblen (14-0) dispatched Fabian Edwards (12-3) prior to the championship rounds in their middleweight title bout at Bellator 299.
The headlining contest for the 185-pound belt concluded a monumental evening that featured a total of 20 fights. This is the 11th time Bellator has travelled to Ireland since the organization's inception, and with each time, the hot bed of talented fighters and roaring fans has only increased.
🇮🇪 Dublin, you were amazing!

The @3ArenaDublin fans were treated to a thrilling night of fights. Fresh stars, new contenders and unbelievable finishes. #Bellator299 had it all. pic.twitter.com/8n0eW3EUUH

— Bellator MMA (@BellatorMMA) September 24, 2023
Contrary to the way the main event ended, Edwards proved to be a very worthy opponent for Bellator's middleweight champion. On multiple occasions, the challenger was able to be quicker to the punch than his opponent, making Eblen question if standing with the precision striker was too risky a move.
In the second round, Edwards landed a perfectly timed elbow during a stand-up exchange, which opened a massive cut above Eblen's right eye. Out of caution, the ringside physician took a look at the laceration, but untimely decided that the fight could continue.
A slicing elbow from @fabianedwards24 cuts @JohnnyEblen.#Bellator299 LIVE on @SHOsports 🇺🇸 pic.twitter.com/WmuWiqHADx

— Bellator MMA (@BellatorMMA) September 23, 2023
Eblen stepped out of his corner to start the third round with blood dripping down his face and seemingly one thing on his mind, ending the fight with a knock-out. It would not take long for Eblen to find the right moment to capitalize on, as he found himself one step ahead after absorbing a kick to the body from Edwards.
Immediately after the kick connected, Eblen stepped forward with a massive right hook that connected clean on the chin of Edwards. The challenger dropped to the ground and went into survival mode for a short period of time, but was unable to withstand the elbow strikes from Eblen, and the referee was forced to intervene.
𝗣𝗥𝗘𝗦𝗦𝗨𝗥𝗘 makes diamonds! 🔥

Middleweight champion @JohnnyEblen just keeps on getting better. #Bellator299 LIVE on @SHOsports 🇺🇸 pic.twitter.com/qaBO2cF9Sd

— Bellator MMA (@BellatorMMA) September 23, 2023
Through this exciting main event showing, Eblen retained his middleweight title and added a 14th win to his undefeated professional record.
𝗝𝗢𝗛𝗡𝗡𝗬 𝗘𝗕𝗟𝗘𝗡 𝗚𝗘𝗧𝗦 𝗧𝗛𝗘 𝗝𝗢𝗕 𝗗𝗢𝗡𝗘 🔥@JohnnyEblen is #AndStill world middleweight champion 👊#Bellator299 | #BlackhawkTire pic.twitter.com/TXSASvkJHW

— Bellator MMA (@BellatorMMA) September 23, 2023
Official Result: Johnny Eblen def. Fabian Edwards via KO (Eblows and Punches from Top) – Round 3, 0:21
Following the stoppage, a brief altercation in the cage occurred between Eblen and the brother of his opponent, and UFC welterweight champion, Leon Edwards (21-3).
Things got heated after the bell between @JohnnyEblen and Leon Edwards. #Bellator299 LIVE on @SHOsports 🇺🇸 pic.twitter.com/s1XK2zJ1B0

— Bellator MMA (@BellatorMMA) September 23, 2023
Full Card Results: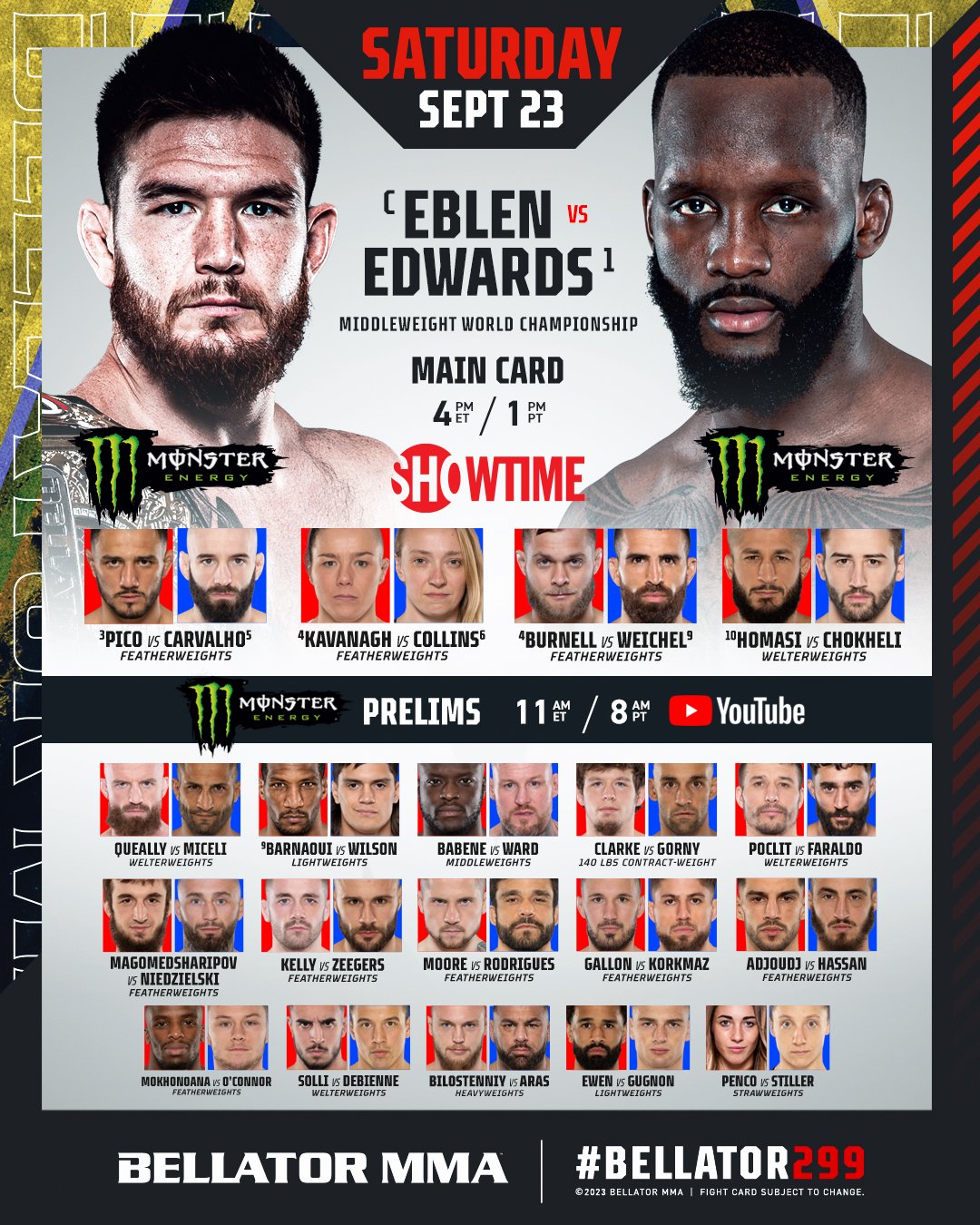 Main Card:
Main Event: Johnny Eblen def. Fabian Edwards via KO (Eblows and Punches from Top) – Round 3, 0:21
Co-Main: Aaron Pico def. Pedro Carvalho via KO (Ground and Pound) – Round 1, 3:05
Sara Collins def. Sinead Kavanagh via Decision (Split)
Mads Burnell def. Daniel Weichel via Decision (Unanimous)
Levan Chokheli def. Sabah Homasi via KO (Front Kick) – Round 1, 1:51
Preliminary Card:
Peter Queally vs. Daniele Miceli Ends in a No Contest (Kick to a Downed Opponent) – Round 1, 0:26
Jay Jay Wilson def. Mansour Barnaoui via Decision (Unanimous)
Gregory Babene def. Charlie Ward via Submission (Guillotine Choke) – Round 1, 1:03
Ciaran Clarke def. Przemysław Górny via Submission (Arm Triangle Choke) – Round 2, 7:52
Luca Poclit def. Roman Faraldo via Submission (D'arce Choke) – Round 1, 2:18
Khasan Magomedsharipov def. Piotr Niedzielski via Submission (Arm Triangle Choke) – Round 2, 8:58
Darragh Kelly def. Jelle Zeegers via KO (Ground and Pound) – Round 3, 3:42
Otto Rodrigues def. Brian Moore via Submission (Arm Triangle Choke) – Round 2, 1:31
Attila Korkmaz def. Davy Gallon via KO (Head Kick to Ground and Pound) – Round 3, 0:23
Asaël Adjoudj def. Ibrahim Al-Faqih Hassan via Decision (Unanimous)
Josh O'Connor def. Kenny Mokhonoana via Decision (Unanimous)
Romain Debienne def. Nicolò Solli via KO (Combination Punching) – Round 1, 0:39
Sergey Bilostenniy def. Kasim Aras via KO (Spinning Back Kick and Punches) – Round 1, 2:33
Mark Ewen def. Noah Gugnon via KO (Elbows) – Round 2, 3:51
Mackenzie Stiller def. Chiara Penco via Decision (Unanimous)