Grasso Retains Title By Split Draw Following Technical Battle With Shevchenko
Las Vegas has hosted boxing events on Mexican Independence Day for three decades, and this past weekend MMA became part of the special weekend as UFC hosted their first-ever Mexican Independence Day event, headlined by a rematch between Alexa Grasso and Valentina Shevchenko for the flyweight title. The event, titled Noche UFC, emanated from Las Vegas' T-Mobile Arena and saw Grasso retain her Championship after a 5-round battle by split draw.
IT'S RULED A SPLIT DRAW 🤯@AlexaGrasso retains her title at #NocheUFC! pic.twitter.com/5kIGjT93fu

— UFC (@ufc) September 17, 2023
Throughout the fight, the main event competitors showed high level skill and tactical instinct, both on the feet and during grappling exchanges. Shevchenko worked well behind her jab, and really made Grasso pay for being a step behind in speed. Meanwhile, the Mexican champion made the necessary adjustments that led to her finding the right opportunities to land huge punches, most notably the straight right that dropped Shevchenko in round-2.
Shevchenko bounced back in the third round, and took things to the canvas by changing her level to shoot for, and complete, the double-leg takedown. In addition to racking up points in the judges eyes by adding to the multiple takedowns she achieved in the first two rounds, Shevchenko also found herself in an opportunistic situation as she latched on to Grasso's neck and attempted to end the night with a mounted guillotine.
Thanks to an extreme level of fortitude, Grasso was somehow able to survive the choke, but Shevchenko would remain in complete control while threatening additional submission attempts for the rest of the round.
We're headed to championship rounds at #NocheUFC!

Who's winning on your scorecards? 📝 pic.twitter.com/AntzSWgsZg

— UFC (@ufc) September 17, 2023
The championship rounds of the fight were very closely fought, but a pivotal moment in the fifth opened up a massive opportunity for Grasso to end the evening on a dominant note. In the back half of the round, Shevchenko decided to take a risk and attempt to execute a throw from a standing head and arm position, despite the success she was finding in the stand-up battle. This proved to be a crucial error, as Grasso countered the throw beautifully and slipped to Shevchenko's back and found herself in top position.
Grasso remained in complete control for the rest of the fight while threatening the rear naked choke, which she submitted Shevchenko with in their first meeting back in March at UFC 285. While she was unable to finish the fight, this turning point saved her from an almost sure-thing decision loss.
WHAT. A. FIGHT.

Alexa Grasso and Valentina Shevchenko just delivered a classic at #NocheUFC 👏👏 pic.twitter.com/4XWShPAIN5

— UFC (@ufc) September 17, 2023
While many disagree with the split draw that this bout resulted in, mainly due to the 10-8 round for Grasso on Mike Bell's scorecard, the fact remains that this fight really could have gone either way.
Official Result: Alexa Grasso vs. Valentina Shevchenko Ends in a Draw (Split) – 48-47, 47-48, 47-47
Official Scorecards:
Reaction
Can we get new judges or revise the rules.
I'm not mad at a draw on the title fight but come on it's a title fight 🤷🏾‍♂️

— Jalin Turner (@JalinTurner) September 17, 2023
Ok 10-8 round 5 is outrageous ..get him Cruz I'm letting u off the leash

— Belal Muhammad (@bullyb170) September 17, 2023
Dear Mike Bell, quit your job! #UFCNoche

— Marion Reneau (@BelizeanBruiser) September 17, 2023
Valentina complaining the judges were pressured to score for Grasso is not a great look 🙄🤦🏻 #UFCNoche

— Joe Joe Giannetti 💀 (@Giannettimma) September 17, 2023
Finished strong. Lost first 4 mins though. Either way- a 10-8??? https://t.co/hE6zd02X80

— michael (@bisping) September 17, 2023
I jokingly called it a draw, everyone in the stands boo'd me.
Then it was a draw 🤯 #NocheUFC

— Julian marquez (@JMarquezMMA) September 17, 2023
Happy that Grasso retains the belt. VIVA LA MEXICO #NocheUFC

— Brad Tavares (@BradTavares) September 17, 2023
An absolute corker of a fight! All timer in WMMA imo. And it ends in a draw! Wow wow, wow! Well done @AlexaGrasso and @BulletValentina! Incredible!

— Conor McGregor (@TheNotoriousMMA) September 17, 2023
"I won that"
"It was a draw"

Damn DC 😂

— Terrance McKinney (@twrecks155) September 17, 2023
What a great fight! I'm leaning Grasso 3-2 #UFCNoche

— Vince Morales (@vandetta135) September 17, 2023
"But it was a draw" 😂😂😂the way he said that has me dying

— Belal Muhammad (@bullyb170) September 17, 2023
I think a draw is crazy, 3-2 Grasso makes more sense to me #UFCNoche

— Joe Joe Giannetti 💀 (@Giannettimma) September 17, 2023
Full Card Results: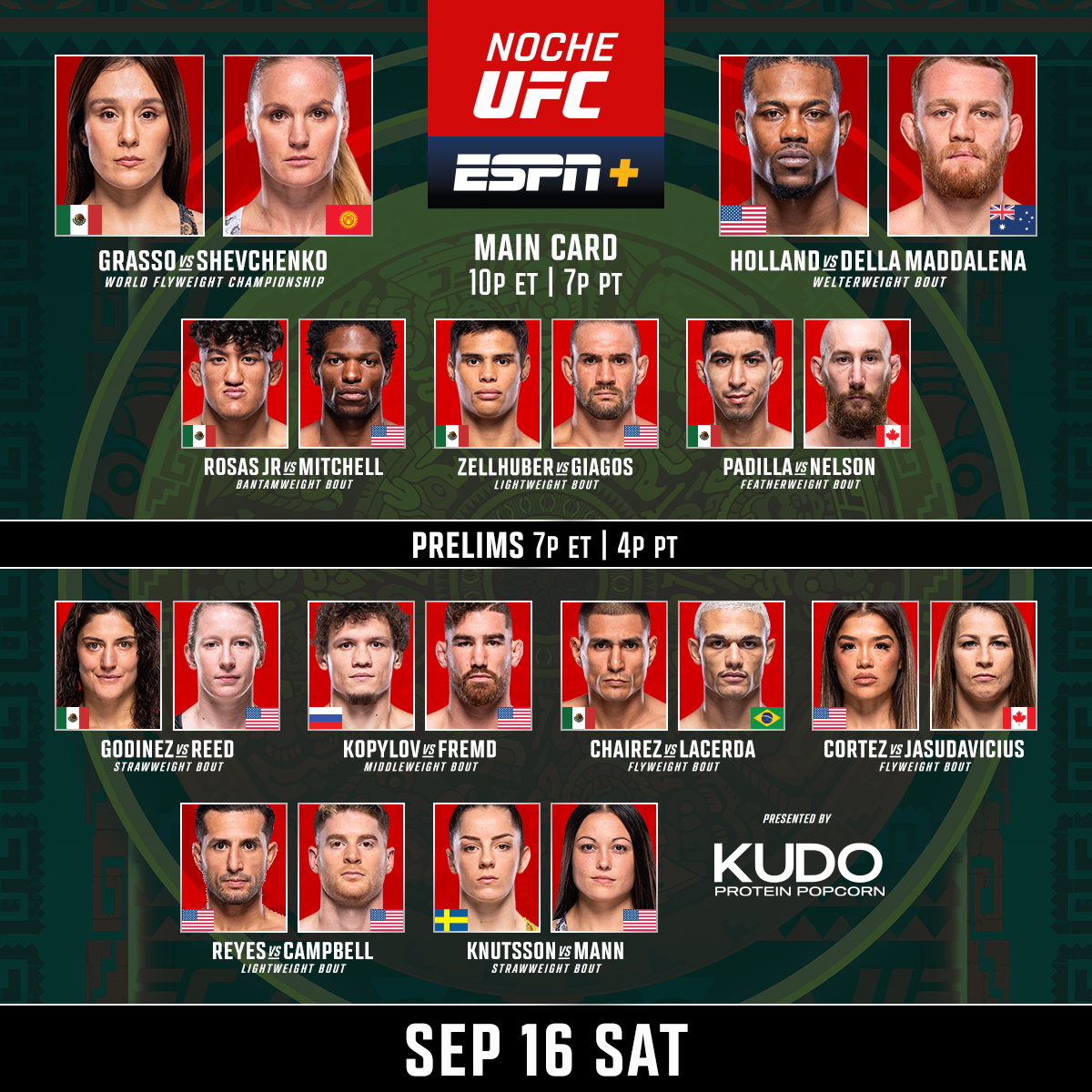 Main Event: Alexa Grasso vs. Valentina Shevchenko Ends in a Draw (Split) – 48-47, 47-48, 47-47
Co-Main: Jack Della Maddalena def. Kevin Holland via Decision (Split)
Raul Rosas Jr. def. Terrence Mitchell via KO (Punches from Mount) – Round 1, 0:54
Daniel Zellhuber def. Christos Giagos via Submission (Anaconda Choke) – Round 2, 3:26
Kyle Nelson def. Fernando Padilla via Decision (Unanimous)
Lupita Godinez def. Elise Reed via Submission (Rear Naked Choke) – Round 2, 3:38
Roman Kopylov def. Josh Fremd via KO (Liver Punch) – Round 2, 4:44
Edgar Cháirez vs. Daniel Lacerda Ends in a No Contest (Premature Stoppage) – Round 1, 3:47
Tracy Cortez def. Jasmine Jasudavicius via Decision (Unanimous)
Charlie Campbell def. Alex Reyes via KO (Left Hook / Right Straight) – Round 1, 3:38
Josefine Knutsson def. Marnic Mann via Decision (Unanimous)