Guide to the 2017 Judo Open-weight World Championships
On November 11th and 12th, The International Judo Federation presents the Openweight world championships in Marrakesh, Morocco. And if you were to trace the Openweight title's history and lineage, you would have to go back to judo's arrival on the Olympic stage, and those who are considered pillars of the sport.
The starting point began at the 1964 Olympic games in Tokyo, when Anton Geesink would become the first non-Japanese Olympic champion in the sport of Judo.
Geesink, who came into the Olympics as the 1961 Openweight world champion — something that is often overlooked — became one of the sport's leading attractions and his story and the scale of his accomplishment gave a newly-found allure to the Openweight division.
History
Geesink. Ruska. Uemura. Lorenz. Yamashita.
These are the five judo titans who won Olympic Openweight gold when it was part of the Games from 1964 — 1984.
The men's Openweight category was the only weight category contested at judo's first World Championships in 1956 in Tokyo which was won by Natsui Shokichi.
Openweight led the way in 1958 when Sone Koji won and 1961 when Geesink became the first non-Japanese world judo champion.
The World Championships added three weight categories in 1965 to match the Olympic program.
Japan's dominance of the division effectively ended in 1993, when Europe came to dominate. Starting with the success of Rafa Kubacki won it in 1993 and 1995, with David Douillet (FRA) triumphing in 1995, Alexander Mikhaylin (RUS) in 2001, Dennis van der Geest (NED) in 2005 and Teddy Riner (FRA) in 2008.
Beijing 2008 Olympic silver medalist Abdullo Tangriev (UZB) produced a watershed moment in 2011 when he became the first Asian male judoka from outside of Japan to win the title.
The women's Openweight category was included in the first women's World Championships in 1980 in New York and Belgium's Ingrid Berghmans would win the Openweight World title four times in succession (1980, 1982, 1984 and 1986). Berghmans would amass a hall of fame career that has been nearly impossible to surpass.
The Openweight category continued to headline the women's World Championships until 1987 when the International Judo Federation started to hold a joint World Championships for men and women.
For women, the Openweight story was halted in 2009 when it was not contested at the World Championships in Rotterdam before returning a year later in Tokyo and then was a stand-alone event alongside then men in 2011.
The Women's version of the Openweight category has never appeared at the Olympic Games and so the worlds version has always been the top prize for those who'd battle other judoka from multiple weight categories.
Belgian great Berghmans believes that the resurrection of the event this year means judo is returning to its roots this weekend.
"I just read about it not so long ago and I had a big smile on my face when I saw the price money."

"I hope there are some judo players from different categories. My memories of that weight class is that the tactics were different as you fought heavy players as well as smaller and faster players .You needed to change things in your head in order to perform and to win."
Prestige
56 judokas will be entering the tournament, and are anxious to make their bid to win the Openweight World Championships.
Olympic and Openweight World Championships winner Yamashita Yasuhiro, who is widely regarded as the greatest judoka of all time, believes fans can expect an exciting spectacle in Marrakesh.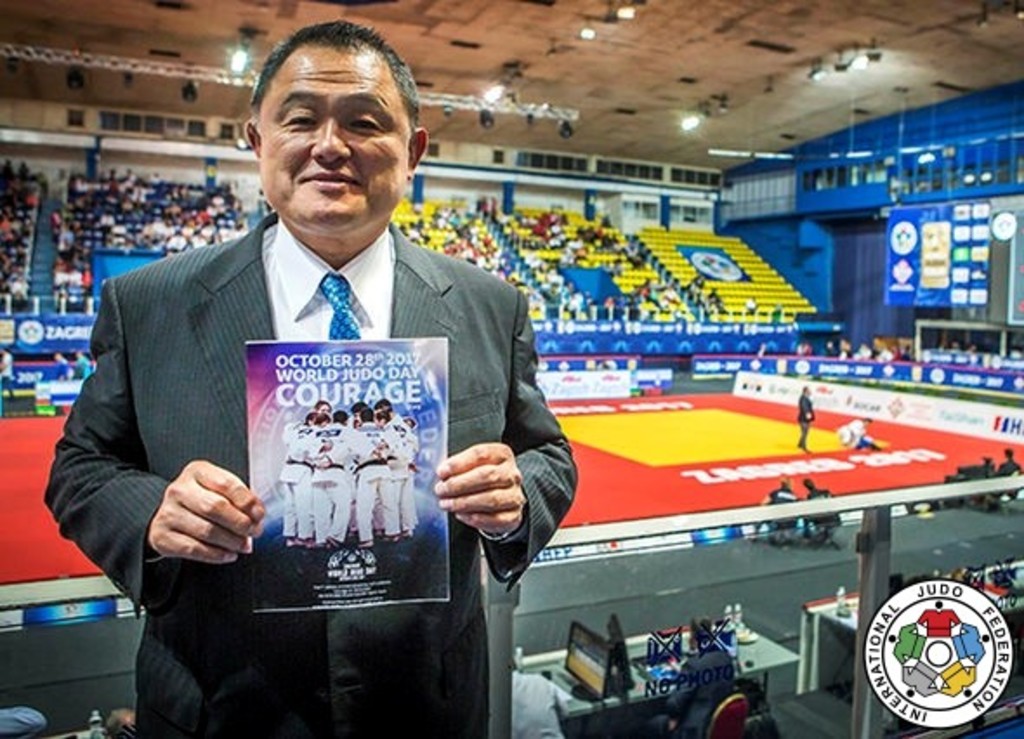 "The "Musabetsu" (Openweight) Category has a long tradition in judo. This year, judoka from all categories will gather in Marrakesh to compete for this prestigious title. Although the smaller judoka may have a smaller chance of glory, it will be very exciting to watch who will be crowned as the strongest judoka among all categories."
Yamashita, who is now the President of the All Japan Judo Federation and an IJF Development Director, will be in attendance in Morocco.
"I hope these Championships to be the opportunity where athletes show their daily efforts regardless of their weight differences and demonstrate the spirit of "Ju yoku go wo seisu" (softness subdues hardness)," added the Japanese great.
Dream matches
An Openweight competition is a meeting ground of champions from different weight categories and this can create a host of dream matches.
Teddy Riner (FRA) v Ilias Iliadis (GRE)
Could we see The King v The Icon? Riner looking to become a 10–time world champion, while Iliadis is coming out of a one-year retirement just to compete in Marrakesh.
There is no seeding at the Openweight Worlds which means that these two-world renowned judoka can face off in the opening round.
Guram Tushishvili (GEO) v Ilias Iliadis (GRE)
A clash of generations that fans of the sport, especially Georgian's hope comes to fruition this weekend. European champion, Tushishvili, won the hearts of the masses and the respect Teddy Rinier, when the Georgian tested Riner in the world's semi-final in Budapest. Tushishvili was only nine years old, when Georgia-born Iliadis won gold at the Athens 2004 Olympics and the only thing than can outweigh the level of fascination that would surround such a contest is the scale of respect that they will show for each other afterwards.
Idalys Ortiz (CUB) v Asahina Sarah (JPN)
Idalys Ortiz has had the mantle of being the leading force in the women's heavyweight scene since she arrived on the international stage in 2006. Ortiz, who starred in the IJF #JudoForTheWorld Cuba video, has won all three colours of Olympic medals available having medalled at all three Olympics she has entered (2008 bronze, 2012 gold, 2016 silver). The two-time world champion has not fought since she took silver at the Olympics last year and has ended her sabbatical early to come back at the Openweight Worlds.
The 28-year-old always intended to continue fighting to the Tokyo 2020 Olympics but had planned a longer break to totally replenish her mind and body before the qualification phase starts in May 2018. Ortiz's return will excite world silver medallist and the early favourite for the women's heavyweight title in Asahina Sarah (JPN). The explosive 20-year-old is ranked second in the world and won thee Grand Slams in a row before taking silver on her Worlds debut.
This contest would be worthy of any stage in the sport and could tell us a lot about what we can expect from both judoka at the Olympics in Tokyo in three years.
All-star entry
Former Openweight World Championships winners Teddy Riner and Alexander Mikhaylin — who met in the London 2012 Olympic +100kg final — are both locked in for Saturday.
Athens 2004 Olympic champion and three-time world champion Ilias Iliadis makes his return which could very well be a one-off appearance.
Georgia will field four judoka in seach of their first Openweight World title. Man of the moment Guram Tushishvili (GEO) is joined by Varlem Liparteliani, Adam Okruashvili and Levani Matiashvili.
Idalys Ortiz and Asahina Sarah have world number two Larisa Ceric (BIH) and world bronze medallist Iryna Kindzerska (AZE) among a 16-strong field of contenders who come from 13 different nations.
Record prize money of €500,000 – €100,000 for gold
The Openweight World Championships 2017 also represents a new chapter for prize money in judo.
A record amount of prize money will be on the table thanks to the IJF's ability to attract new sponsors and partners at a time when the sports market is saturated and more competitive than ever.
Gold medallists will earn a record €100,000 with silver medallists scooping €50,000 and bronze medallists taking home €25,000.
The prize money continues beyond the medallist as judoka who finish fifth will earn €10,000 while a seventh-place is worth €5,000.