UFC 294 Undercard Live Results, Recaps, Highlights: Chimaev Displays High Level Grappling To Defeat Usman
Today, live from the Etihad Arena in Abu Dhabi, the electrifying main card for UFC 294 is ready to kick off.
In the highly anticipated main event, Alexander Volkanovski will once again get a shot at Islam Makhachev's lightweight title. Back in February, the pair met at UFC 284 and fought for the full five round distance in an extremely competitive matchup.
Makhachev would retain his title in their first meeting, but Volkanovski feels that he has made the necessary adjustments over the last eight months to defeat the reining lightweight king and become a two division champion.
But first, former welterweight champion Kamaru Usman will make the move to middleweight and take on the undefeated Khamzat Chimaev in the co-main event. Chimaev has been running through his opponents like a freight train since his UFC debut, but he has never faced a competitor on the same level as Usman, who many consider one of the best 170-pound fighters of all time.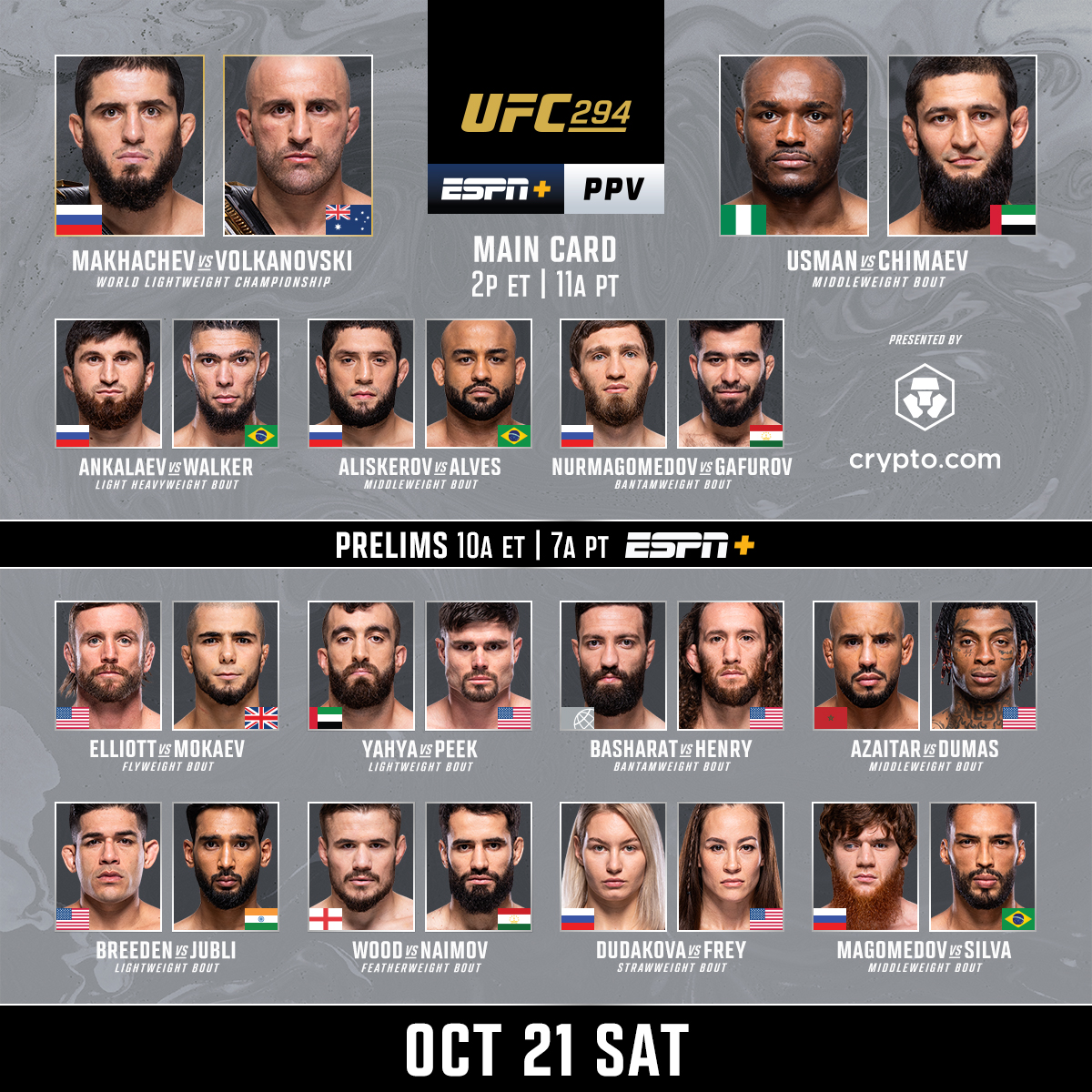 Follow the Live Results, Recaps, and Highlights below, provided by FIGHT SPORTS
Main Undercard 2 p.m. ET / 11 a.m. PT (PPV) Live Results:
Co-Main Event: Kamaru Usman vs. Khamzat Chimaev – Middleweight
Early in this high level 185-pound contest, Khamzat shot for a takedown on the former welterweight titleholder in Kamaru Usman. While Usman defended intelligently, his opponent eventually took him to the ground and secured full back control.
Chimaev would hold Usman in that position for the entire remainder of the first round, dominating Usman while attempting to lock in a rear naked choke. He would go on to survive the first round, but Usman looked completely exhausted from the pressure of his Chechen opponent.
In the second round, Chimaev came out displaying excellent fainting, constantly making Usman prepare for a takedown. Despite the constant threat of a level change, 'The Nigerian Nightmare' was setting up excellent strikes, setting traps for his opponent and making him pay.
After eating some well-placed punches, Chimaev found a perfect opportunity to shoot for a takedown and secured it with ease. This position was held for the remaining 30 seconds, resulting in a much more evenly scored round compared to the first.
Final 5 minutes on the way!

Go inside the Usman corner before Round 3 🔊 #UFC294 pic.twitter.com/HUU2l0k2pb

— UFC (@ufc) October 21, 2023
Usman opened with crisp striking to start the final stanza of the fight, but Chimaev, who realized that he was not going to be able to survive in a toe-to-toe standup match, secured the double leg takedown along the fence. Usman would eventually find his opportunity to escape and get to his feet, and the fight would come to a dramatic close as time expired, with both competitors throwing hard shots.
15 minutes in the books!

Our #UFC294 co-main is headed to the judges' scorecards pic.twitter.com/SeD7su1cY2

— UFC (@ufc) October 21, 2023
Despite a valiant effort on short notice from the former 170-pound king, Usman would fall short on the scorecards, resulting in a unanimous decision victory for Khamzat Chimaev. With this dominant victory over his most skilled opponent to date, Chimaev is now next in line to challenge for Sean Strickland's middleweight championship title.
Official Result: Khamzat Chimaev def. Karmaru Usman via Decision (Majority) – 29-27, 29-27, 28-28
Magomed Ankalaev vs. Johnny Walker – Light Heavyweight
In this 205-pound matchup, an unfortunate unintentional knee to a grounded opponent foul from Magomed Akalaev resulted in the ringside physician calling the fight off, despite the objection from Johnny Walker. The ringside physician felt that Walker was mentally compromised from the illegal shot, and called off the action at 3:13 of the very first round.
Disappointing end to this one.

Ankalaev vs Walker is ruled a No Contest after the ref calls a stop due to an unintentional foul. #UFC294 pic.twitter.com/OmDxbc2W1x

— UFC (@ufc) October 21, 2023
Official Result: Magomed Ankalaev vs. Johnny Walker Results in a No Contest (Illegal Knee From Ankalaev) – Round 1, 3:13
Ikram Aliskerov vs. Warlley Alves – Middleweight
In another contest that wouldn't see the second round, Ikram Aliskerov put an absolute beating on Warlley Alves by using excellent distance management and precision striking. The finishing sequence began by Aliskerov dropping his opponent with a powerful jab.
Aliskerov noticed that his opponent was compromised from this shot, and he pressured his opponent's back to the cage. He then delivered a high kick that partially connected, followed by a switch flying knee that landed flush. At this point Alves was just about done, and Aliskerov finished him off with a flurry of hard, sending his opponent to the canvas, where the referee was forced to intervene.
IKRAM ALISKEROV DID IT AGAIN 😱

Two first round knockouts to kick off his UFC career! #UFC294 pic.twitter.com/lTxr0qyEeO

— UFC (@ufc) October 21, 2023
Official Result: Ikram Aliskerov def. Warlley Alves via KO (Flying Knee and Punches) – Round 1, 2:07
Said Nurmagomedov vs. Muin Gafurov – Bantamweight
Getting the main card started for this monumental event, Said Nurmagomedov made extremely quick work of Muin Gafurov. In the opening round, Gafurov overzealously moved forward in an attempt to pressure his opponent.
This proved to not be the most sound strategy as Nurmagomedov was able to evade the punches, break Gafurov's posture, and cinch in a constricting standing guillotine choke. Gafurov had no choice but to tap out from the power of Nurmagomedov's strangle.
SAID NURMAGOMEDOV IN JUST OVER A MINUTE 🤯

Guillotine gets the tap to open the #UFC294 main card! pic.twitter.com/rdtAxNpOd6

— UFC (@ufc) October 21, 2023
Official Result: Said Nurmagomedov def. Muin Gafurovround via Submission (Guillotine Choke) Round 1, 1:13
Preliminary Card Results:

Muhammad Mokaev def. Tim Elliott via Submission (Arm Triangle Choke) – Round 3, 3:03

Trevor Peek def. Mohammad Yahya via Decision (Unanimous)

Javid Basharat vs. Victor Henry Ends in a No Contest (Groin Kick to Henry) – Round 2, 0:15

Sedriques Dumas def. Abu Azaitar via Decision (Unanimous)

Mike Breeden def Anshul Jubli via KO (Right Hook) – Round 3, 3:00

Muhammad Naimov def. Nathaniel Wood via Decision (Unanimous)

Victoria Dudakova def. Jinh Yu Frey via Decision (Unanimous)

Shara Magomedov def. Bruno Silva via Decision (Unanimous)