Usman Nurmagomedov Dominates Brent Primus In Bellator 300 Main Event
Full Card Results And Video Highlights
Headlining Bellator MMA's monumental 300th event, Usman Nurmagomedov executed a well-rounded game plan to retain his lightweight title, with a dominant unanimous decision victory over Brent Primus.
Live from Pechanga Arena in San Diego, The milestone evening for the organization was celebrated with a total of 16 fights, including 3 world championship matchups. To make matters even more interesting, the main event title bout doubled as the semifinal of the one-million-dollar Lightweight World Grand Prix.
Nurmagomedov by name, Nurmagomedov by nature 🔥@Usmannmgdv is #AndStill #Bellator lightweight world champion after a dominant decision win over Brent Primus 👊 #Bellator300 | #BlackhawkTires pic.twitter.com/JH56n0zNPk

— Bellator MMA (@BellatorMMA) October 8, 2023
In a near flawless victory, Nurmagomedov seemed to be one step ahead of Primus for the full duration of their 25-minute contest. Right off the bat, the 155-pound titleholder went to work with dynamic striking, keeping his Primus guessing. Nurmagomedov at most times was vastly outperforming his opponent, showing a range of powerful kicks, mixed amongst crisp punches.
Additionally, Nurmagomedov once again displayed his ability to use his opponent's aggression as an advantage, making Primus pay on multiple occasions and exhausting him in the process.
We go into round 3️⃣, who you got so far @Usmannmgdv or @brentprimus155?#Bellator300 | LIVE NOW | @SHOsports pic.twitter.com/tlzDNJ0cTx

— Bellator MMA (@BellatorMMA) October 8, 2023
Heading into the championship rounds, Primus was looking tired, and was clearly feeling the effects of the damage inflicted by Nurmagomedov's stand-up arsenal. The Dagastani champion, who was still looking fresh and fairly untouched, seemed to sense his opponent's fatigue, and decided to drag his opponent to deep waters by securing takedowns in both of the remaining rounds.
Nurmagomedov made it clear that he was confident in his abilities in any and all areas of this fight. He had constant moments of success, striking with Primus from a distance, then when he decided it was the right time he took the fight to the ground with seemingly little effort, most notably with an outside trip from within the clinch in the fourth.
A trip takedown from @Usmannmgdv! #Bellator300 | LIVE NOW | @SHOsports pic.twitter.com/ic4r1CstPK

— Bellator MMA (@BellatorMMA) October 8, 2023
Nurmagomedov would go on to secure the unanimous decision, winning every round on all three judges scorecards. Through this dominant performance, he has added an 18th win to his undefeated record, and will now advance to the finals of the Bellator Lightweight Grand Prix.
Official Result: Usman Nurmagomedov def. Brent Primus via Decision (Unanimous) – 50-45, 50-45, 50-45
In the evening's co-main event, Cris Cyborg once again reminded everyone why she is considered one of the best female fighters of all time. Just four minutes in to her contest with Cat Zingano, Cyborg defended a double-leg takedown attempt after eating a right hook, and began to unload with heavy shots of her own.
It was only a matter of seconds before Zingano was purely in survival mode, at which point Cyborg finished things with a barrage of hammer fists.
Through this victory, Cyborg improved her record to 27-2 while defending her featherweight title for a fifth straight time.
🔥 @criscyborg is the best in the world!#Bellator300 | LIVE NOW | @SHOsports pic.twitter.com/2aJSCwwajn

— Bellator MMA (@BellatorMMA) October 8, 2023
Official Result: Cris Cyborg def. Cat Zingano via KO (Punches) – Round 1, 4:01
Bellator 300 Full Event Results: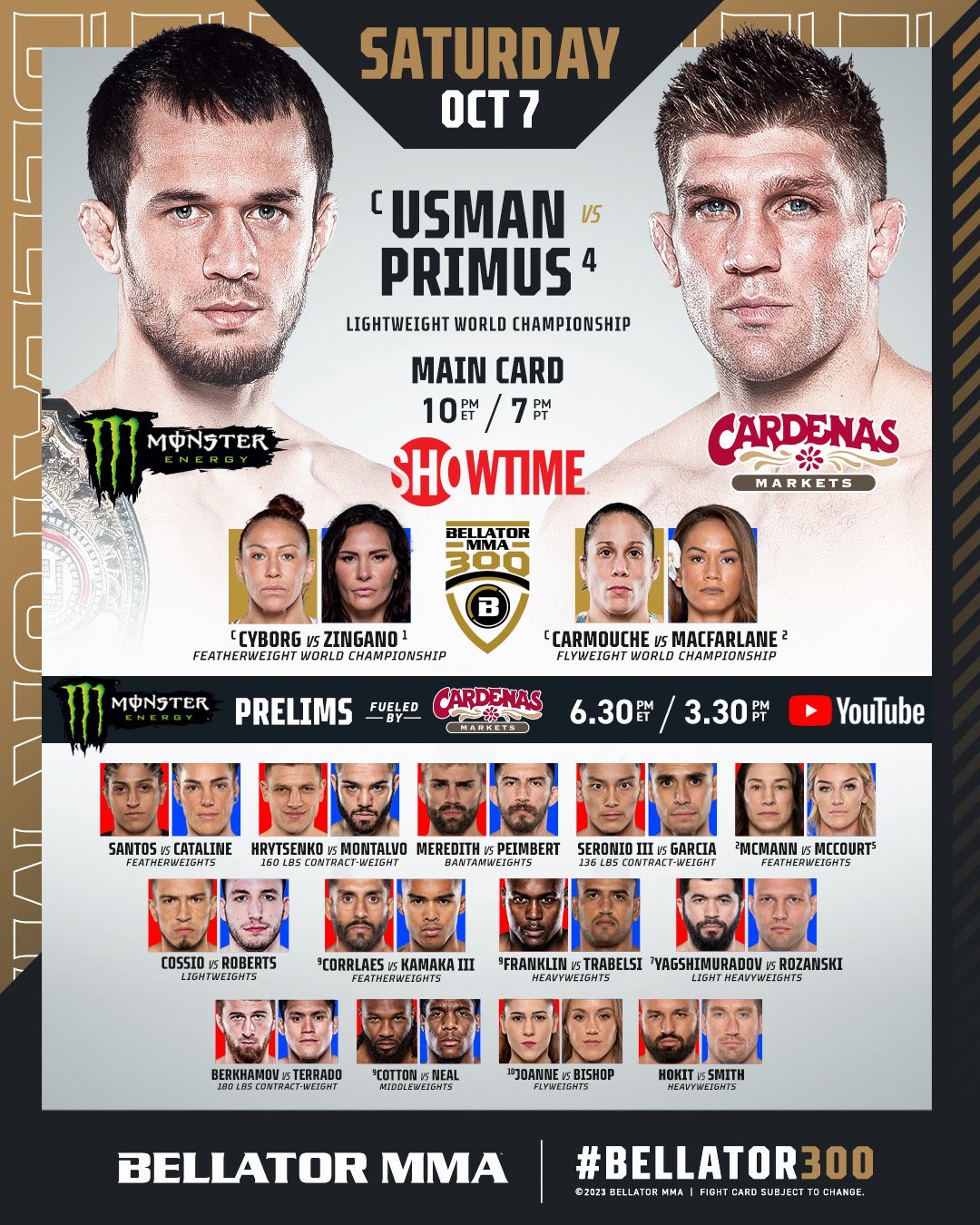 Main Card:

Main Event: Usman Nurmagomedov def. Brent Primus via Decision (Unanimous) – 50-45, 50-45, 50-45 – Lightweight Title & LW WGP Semifinals
Co-Main: Cris Cyborg def. Cat Zingano via KO (Punches) – Round 1, 4:01 – Featherweight Title
Liz Carmouche def. Ilima-Lei Macfarlane via TKO (Low Kick) – Round 5, 0:17 – Flyweight Title

Preliminary Card:

Bobby Seronio III def. Alberto Garcia via Decision (Unanimous)
Leah McCourt def. Sara McMann via KO (Ground and Pound) – Round 1, 4:30
Sergio Cossio def. Jesse Roberts via Submission (Mounted Triangle Choke) – Round 3, 4:05
Kai Kamaka III def. Henry Corrales via Decision (Split)
Slim Trabelsi def. Davion Franklin via TKO (Injury) – Round 1, 3:09
Dovletdzhan Yagshimuradov def. Maciej Różański via Decision (Unanimous)
Mukhamed Berkhamov def. Herman Terrado via Decision (Unanimous)
Grant Neal def. Romero Cotton via Decision (Unanimous)
Jena Bishop def. Ilara Joanne via Submission (Armbar) – Round 1, 2:45
Josh Hokit def. Spencer Smith via Submission (Arm Triangle Choke) – Round 3, 3:48

Postlim Card:

Lorrany Santos vs. Jackie Cataline
Dmytrii Hrytsenko def. Justin Montalvo via Decision (Unanimous)
Bryce Meredith def. Miguel Peimbert via Decision (Unanimous)