Paris Grand Slam Final Results
The season-opening Paris Grand Slam 2017 concluded on Sunday with the heavyweight titans of judo as judo elite reinforced their credentials while new stars were born in the theatre of judo that is the French capital.
The world-famous Paris tournament, which earned Grand Slam status in 2009, was brought to an explosive finale as the women's -70kg, -78kg and +78g categories and men's -90kg, -100kg and +100kg categories were all contested at the AccorHotels Arena.
WOMEN
-70kg: ARAI leads the way in Paris for Japan to close in on worlds selection
The final of the women's -70kg opposed the Tokyo Grand silver medallist, ARAI Chizuru of Japan and former world number one Kelita ZUPANCIC from Canada. The Japanese gave no chance to ZUPANCIC and with a neat turnover caught her into tate-shiho-gatame for 20 seconds and ippon, despite the instructions that double Olympic Champion, Kayla HARRISON (USA) offered from the stands to her Canadian friend.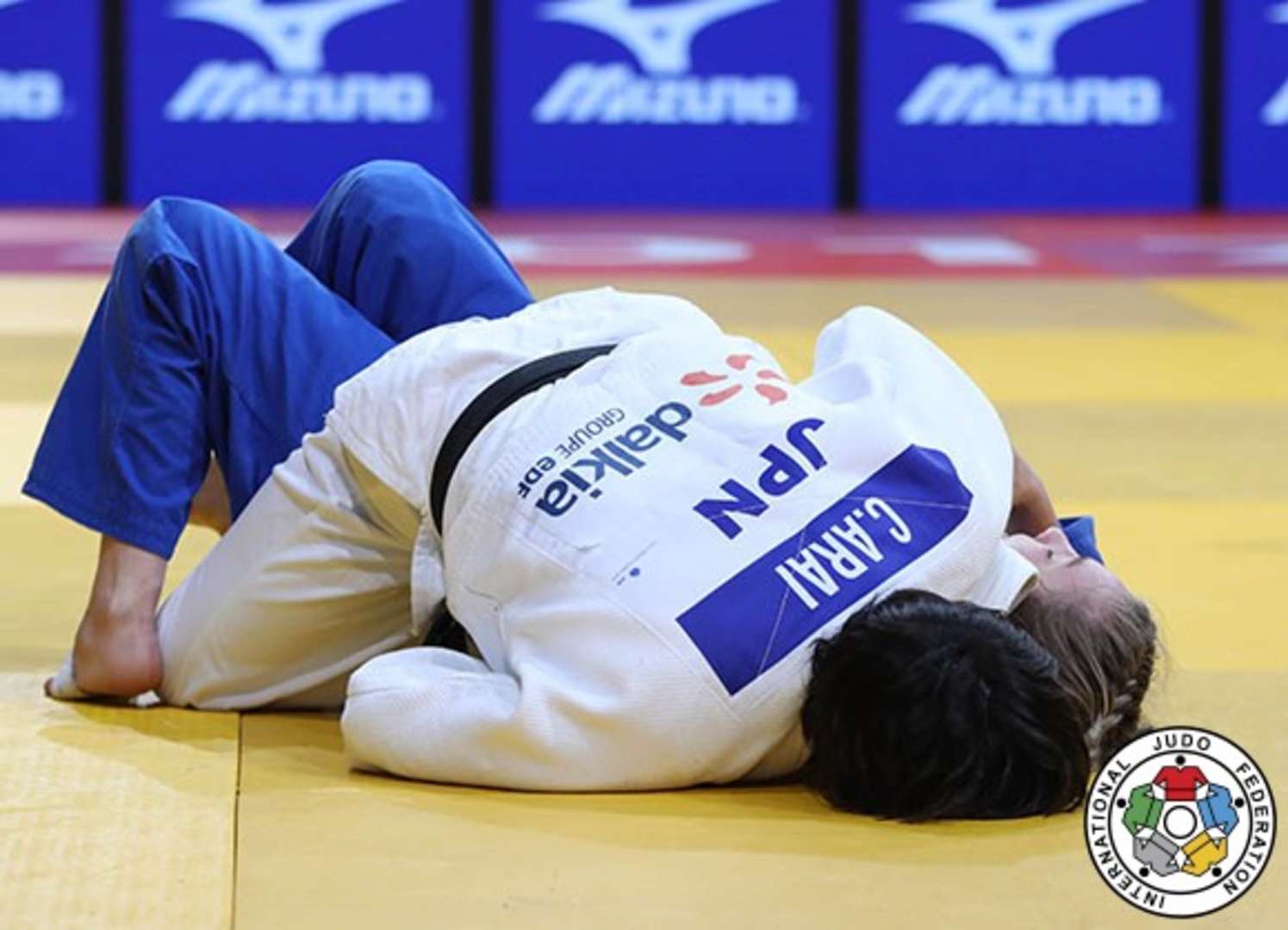 Final Results
1. ARAI, Chizuru (JPN)
2. ZUPANCIC, Kelita (CAN)
3. RODRIGUEZ, Elvismar (VEN)
3. VAN DIJKE, Sanne (NED)
5. GAHIE, Marie Eve (FRA)
5. YOU, Jeyoung (KOR)
7. NIIZOE, Saki (JPN)
7. RODRIGUEZ, Sara (ESP)
-78kg: TCHEUMEO finds a route past SATO for fourth Grand Slam gold
Former world champion and two-time Olympic medallist Audrey TCHEUMEO (FRA) and Tokyo Grand Slkam winner SATO Ruika (JPN) failed to hit the heights of their performances in the earlier rounds as their tense final narrowly went in favour of the home judoka.
TCHEUMEO was coached by French great Lucie DECOSSE while SATO was coached by former world champion ASAMI Haruna as both coaches were taking charge of their country's senior team members for the first time on the IJF World Judo Tour.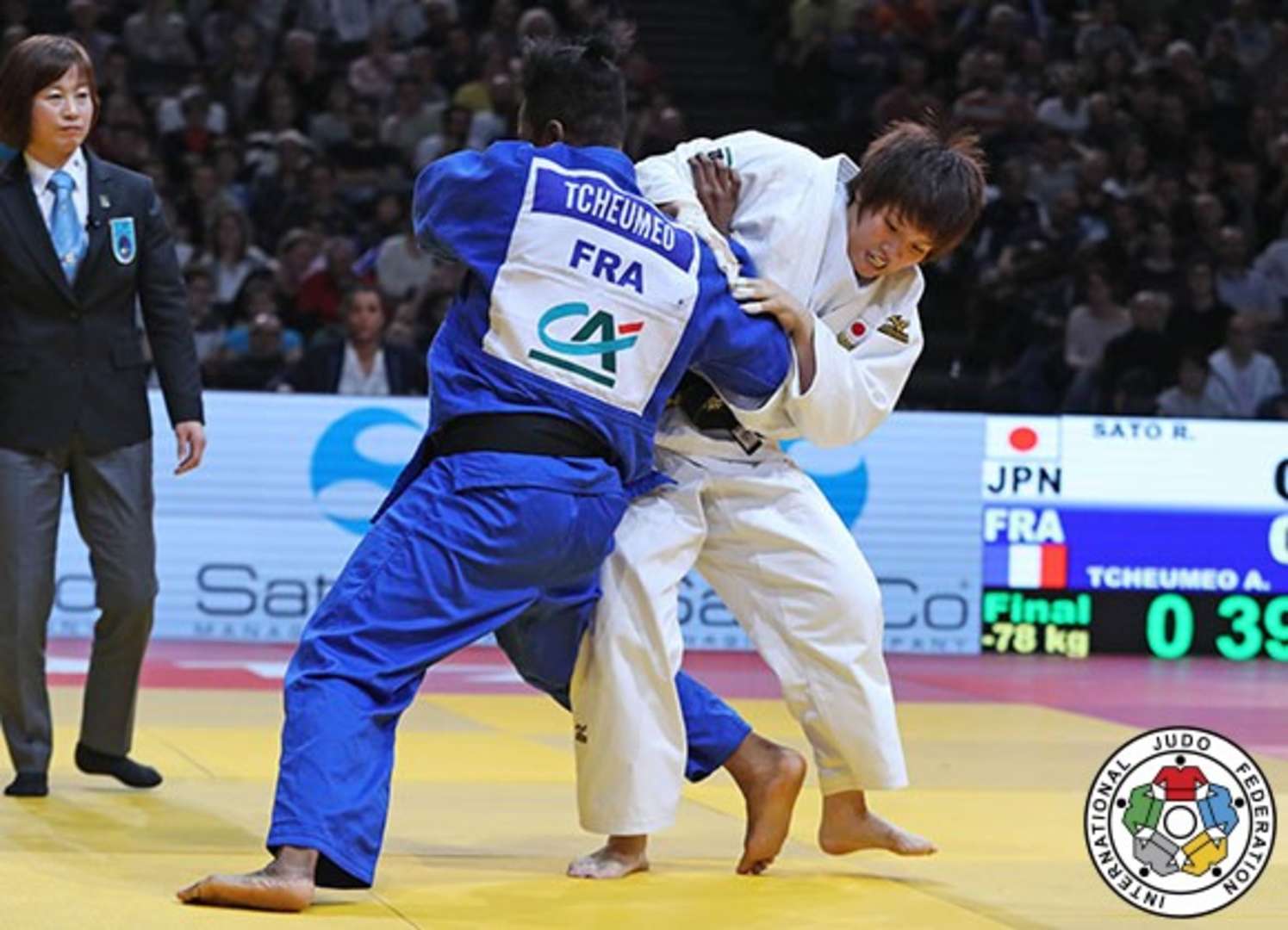 Final Results
1. TCHEUMEO, Audrey (FRA)
2. SATO, Ruika (JPN)
3. CAMARA, Sama Hawa (FRA)
3. STEENHUIS, Guusje (NED)
5. APOTEKAR, Klara (SLO)
5. PARK, Yujin (KOR)
7. MALONGA, Madeleine (FRA)
7. POWELL, Natalie (GBR)
+78kg: Paris debutant ASAHINA stuns Olympic champion to earn second Grand Slam title
World bronze medallist YAMABE Kanae (JPN) lost out to teammate ASAHINA Sarah (JPN) as the Tokai University student put herself in the driving seat for a Tokyo 2020 berth and selection for the World Championships 2017 in Budapest, Hungary. The scoreless contest came to a conclusion when YAMABE received a third shido for passivity and hansoku-make. ASAHINA, who started judo at the Kodokan and still lives around the corner from the traditional home of the sport, was supported by her parents in Paris and can is already fulfilling their hopes and dreams with this result just the beginning for the 20-year-old.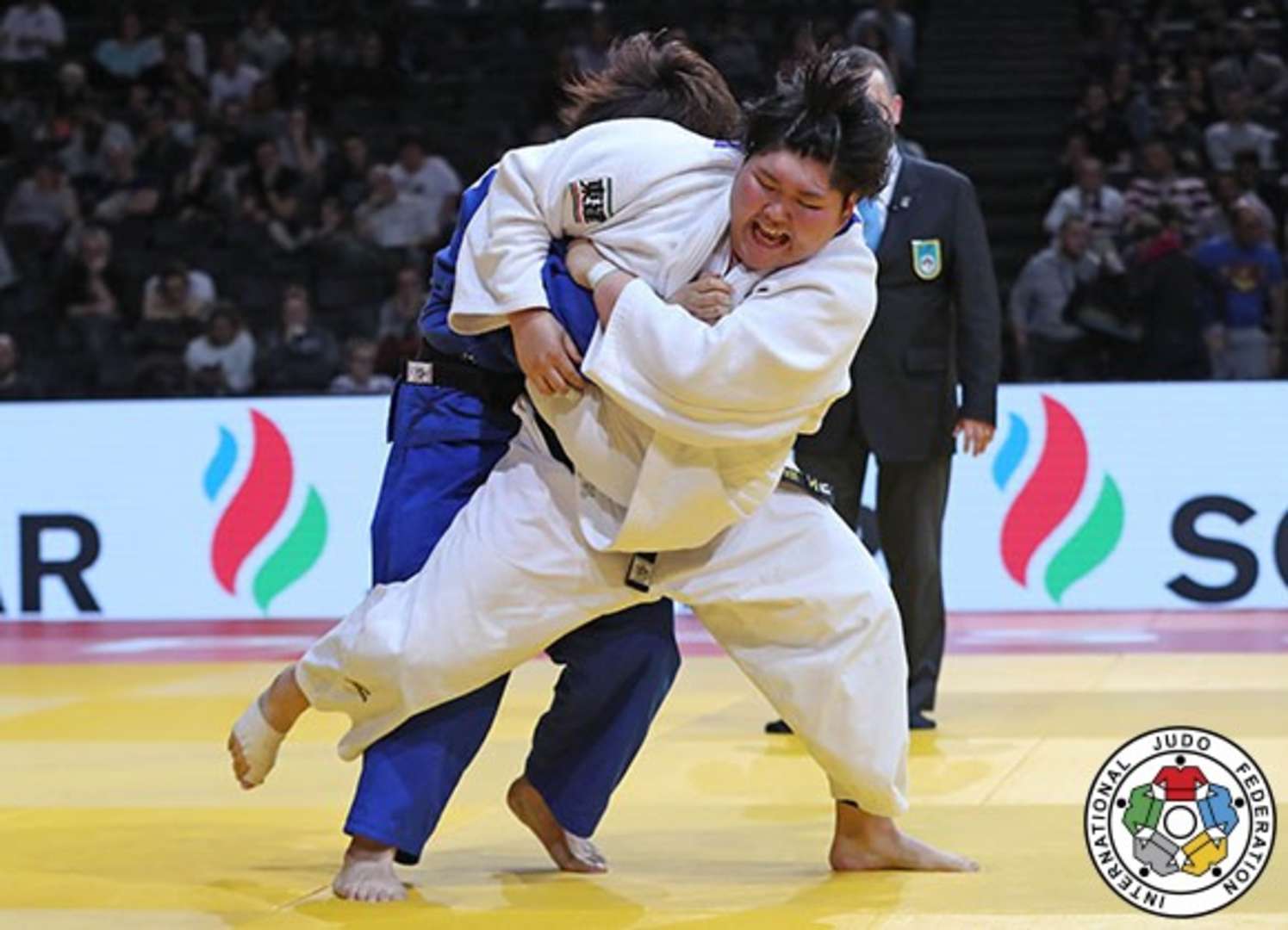 Final Results
1. ASAHINA, Sarah (JPN)
2. YAMABE, Kanae (JPN)
3. ANDEOL, Emilie (FRA)
3. KIM, Minjeong (KOR)
5. BISSENI, Eva (FRA)
5. KALANINA, Yelyzaveta (UKR)
7. PAKENYTE, Santa (LTU)
7. SLUTSKAYA, Maryna (BLR)
MEN
-81kg: DE WIT wins first Grand Slam as the Netherlands has a new poster boy
Abu Dhabi Grand Slam bronze medallist Frank DE WIT (NED) won his first Grand Slam gold medal as the Netherlands have the ideal poster boy for their new Grand Prix at The Hague which was announced on Sunday. Both judoka cancelled each other out in regulation time and needed an additional 54 seconds to be separated by a waza-ari score which went in favour of the 21-year-old Dutchman.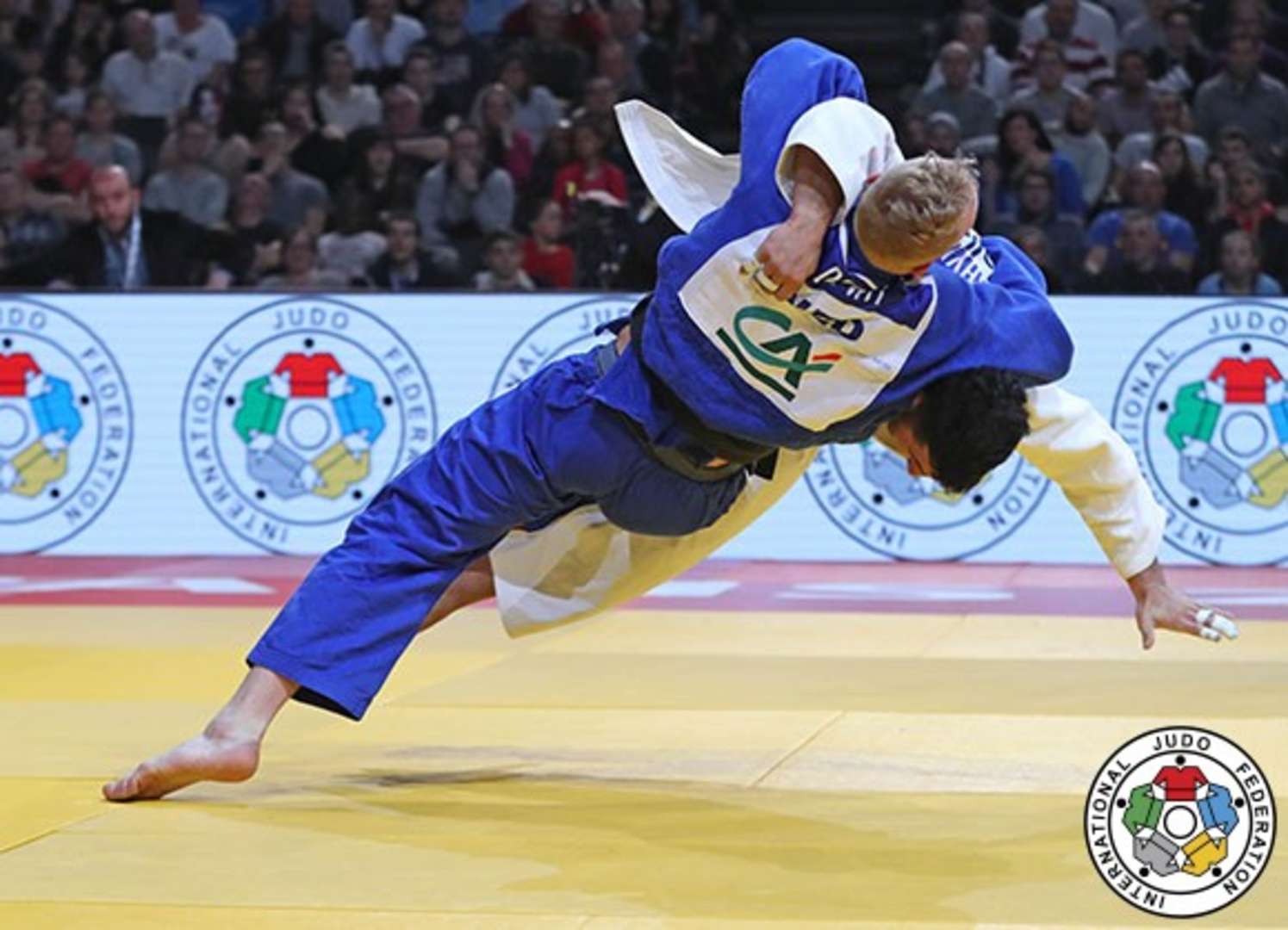 Final Results
1. DE WIT, Frank (NED)
2. REKHVIASHVILI, Zebeda (GEO)
3. NDIAYE, Pape Doudou (FRA)
3. PIERRE, Baptiste (FRA)
5. HONG, Suk Woong (KOR)
5. SANTOS, Eduardo Yudi (BRA)
7. KRIVCHACH, Sergii (UKR)
7. NYAMSUREN, Dagvasuren (MGL)
---
-90 KG Final Results:
1. CHENG, Xunzhao (CHN)
2. CLERGET, Axel (FRA)
3. GWAK, Donghan (KOR)
3. ZGANK, Mihael (SLO)
5. GVINIASHVILI, Beka (GEO)
5. STEWART, Max (GBR)
7. TEKIC, David (GER)
7. USTOPIRIYON, Komronshokh (TJK)
-100kg Final Results:
1. IIDA, Kentaro (JPN)
2. MARET, Cyrille (FRA)
3. FONSECA, Jorge (POR)
3. LIPARTELIANI, Varlam (GEO)
5. KORREL, Michael (NED)
5. MINASKIN, Grigori (EST)
7. FREY, Karl-Richard (GER)
7. KUMRIC, Zlatko (CRO)
+100kg Final Results:
1. OJITANI, Takeshi (JPN)
2. SHICHINOHE, Ryu (JPN)
3. SILVA, Rafael (BRA)
3. ULZIIBAYAR, Duurenbayar (MGL)
5. SADIKOVIC, Harun (BIH)
5. TUSHISHVILI, Guram (GEO)
7. JABALLAH, Faicel (TUN)
7. VOLKOV, Andrey (RUS)